Chainsaw tree carver – Showman
A professional tree carver, unique artist and exceptional showman, his chainsaw skills enhance the beauty of wood and Nature.
A chainsaw virtuoso, his instrument becomes as light and fluid as the life force that animates and guides him in creating these inspired and inspiring works…
His musical shows combine physical performance with artistic magic to provide original lively entertainment, which touches the hearts of any audience.
His carvings are also homages to the trees he is bringing back to life with the fluidity and force of his creations.

The wood becomes a work of art, a carving of light to shine and brighten our living spaces. Travel well…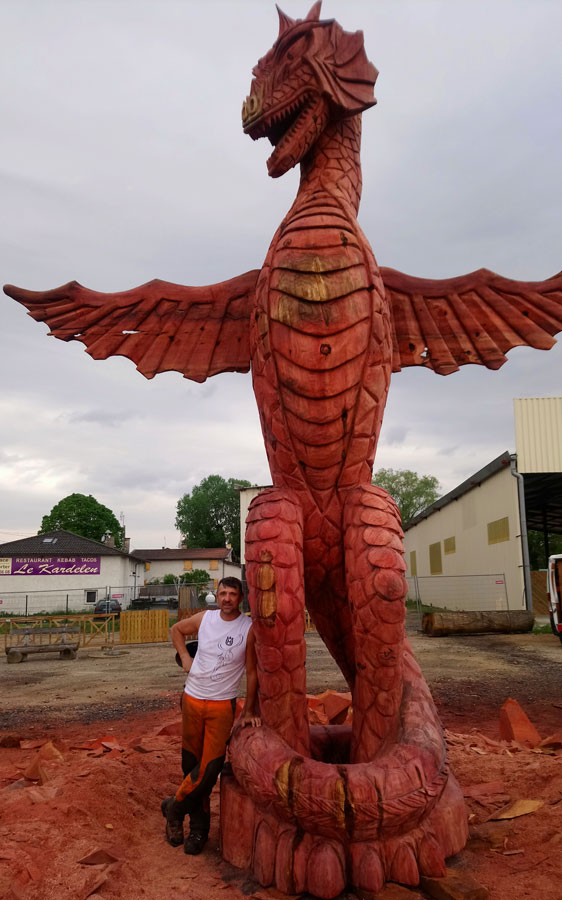 Jacques Pissenem was born in 1972 in Plancher-les-Mines, a small village in the Haut-Saone region at the heart of the magnificent forests of the Vosges. Very quickly, he felt he was "an inhabitant of Nature", as he puts it.
Confronted by the beauty and force of the landscape, his life choices were already preparing him to become the "tree carver" he is today.
Participating in mountain biking competitions, motocross and skiing, he learned stamina and developed a taste for hard work in the forest landscape of his childhood. Wanting to escape from a world that had become too uniform and standardized, he escaped through music, becoming a drummer in a rock group.
All the elements were already there, waiting for him to draw on them to inspire the art he creates today.
Before he was 30, he changed his life radically and left a promising, but alienating, job in the automobile industry to train in woodwork. At the same time, he developed a goat farm with his partner at the time in his village.
It was at then that he had a decisive encounter, with Pio Pascolo, a pioneer in the art of chainsaw carving since 1958, who initiated him in the practice of this unusual art form.
The spark was there, his determination, hard work and creativity have led him to become, today, the only "tree carver" to carry out chainsaw performances to music.
This unique, strong and sensitive artist takes us to a dream world where physical performance is in the service of creation, of his creations…
Welcome to the unusual artistic world of Jacques Pissenem.
Confronting rampart standardization and the uniformization of tastes and colors, he invites you into a world of diversity, originality and sincerity.
Discover some of his works…
Through a natural, noble and ecological material, a gift of the earth and the sun, wood lends itself to becoming his instrument and the chainsaw becomes a pencil, brush or kalam, bringing these unique works to life.
Different types and sizes of wood, rough or polished, these carvings participate in the beauty of our indoor or outdoor spaces.
Please contact us if a carving interests you.
Trees on bases
Monumental carvings
Inspiration series
Works of art